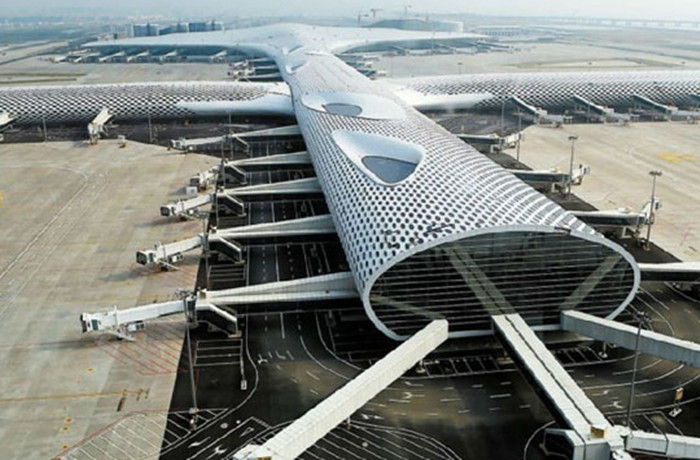 Terminal 3 of Shenzhen Bao 'an International Airport was officially opened on November 28, 2013. The former Terminals A and B and the international terminal were closed at the same time. In order to help passengers reduce travel confusion, the Shenzhen municipal government has adopted a variety of methods to help passengers familiarize themselves with the new terminal. Among them, it has cooperated exclusively with Tencent Street View map to collect and produce street view of the airport roads and the interior of the terminal.
"New" is reflected in three aspects: first, the structure concept is "new", the appearance is "flying fish" shape, the main finger gallery five depression area makes the whole steel roof appearance appears clever but not rigid; Second, the structure concept is "new". In terms of steel structure bearing, whether the size of joint bearing or the scale of use, it is second to none at home and abroad. Third, the construction technology is "new". The innovation in the construction technology of v-shaped columns and telescoped steel tension beams in the center of the corridor makes the whole structure balanced in stress and strain concentration after the completion of installation and unloading.
"More" is reflected in the number of bars as many as 260,000 pieces, the length of the members are different, the wall thickness is different, the node is complex and changeable, the curvature of the members is different, the whole free surface, the space abnormity is complex and changeable.
"Difficulty" is also reflected in three aspects: first, the number of free-form surfaces, complex nodes and components bring great difficulty to the deepening of design and construction; Second, the reinforcement truss member type is multi-walled thick-walled small square pipe, such members in the production process of correction, stress elimination and ensure the full penetration of the weld and other aspects of the construction of many difficulties. In addition, the difficulties are also reflected in the cross-construction in space and process between the super-large steel structure construction organization and civil engineering, curtain wall, subway, viaduct, GTC and other construction units. The wide cross-construction points bring great difficulties to the coordination and communication in steel structure construction.
Uetersen overcame numerous difficulties and provided integrated services of thermal insulation, heat insulation, fire prevention, sound insulation and other materials production and construction for Shenzhen Bao 'an International Airport, making a contribution to the rapid operation of the airport and all aspects of safety measures.