Superfine glass wool is a kind of light, low thermal conductivity, thermal insulation and sound absorption performance, corrosion resistance, heat resistance, frost resistance, earthquake resistance, not afraid of moth, skin, and has good chemical stability, and convenient construction, is a kind of light, efficient, durable, economic industrial insulation material.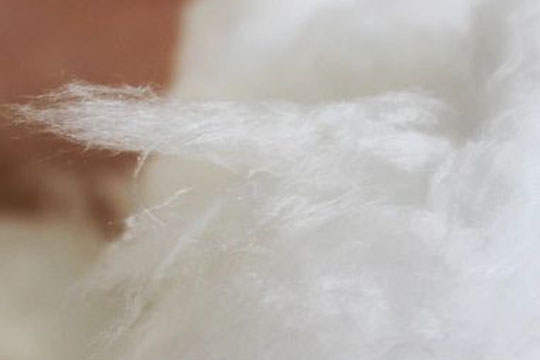 Superfine glass wool
Superfine glass wool insulation material is quartz sand, feldspar, sodium silicate, boric acid as the main raw materials. After high temperature melting system is less than 2um fiber cotton, and then add thermosetting resin adhesive pressure high temperature finalize the manufacture of various shapes, specifications of the board, felt, pipe products. Its surface can also stick aluminum foil or PVC film. The product has light bulk density, small thermal conductivity, large absorption coefficient and good flame retardant performance. It can be widely used in thermal equipment, air conditioning constant temperature, hot and cold pipes, ovens, ovens, cold storage and preservation of buildings, heat insulation, sound insulation and other aspects.
Ultrafine glass fiber
Ultrafine glass fiber is a type of glass fiber and is an artificial inorganic fiber. Process of imported equipment, the United States, broken glass as the main raw materials, with some soda, borax and other accessories, the glass molten state by centrifugation to blow into a diameter of 2.5-5 microns batt glass fiber, commonly known as glass wool, interchanges between the fibre and fibre winding, has a large number of internal and external connected tiny pore and holes, thus is regarded as porous materials, Light body, low thermal conductivity, good thermal insulation and sound absorption performance, non-combustible, corrosion resistance, non-toxic, does not fear the bug eat by moth, not the skin, the hydrophobic rate is high, and has the advantages of good chemical stability, is the production of sealed lead-acid battery glass fiber adsorption partition, filter paper, ideal material of insulation paper, also the VIP (vacuum insulation panel) of the material. At present, it is recognized as an ideal material for heat preservation, noise elimination and heat insulation with superior performance.
Application:
1, all kinds of heat insulation industrial furnace door sealing, furnace curtain curtain.
2, high temperature flue, air duct bushing, expansion joint.
3, petrochemical equipment, containers, pipelines of high temperature insulation, heat preservation.
4. Protective clothing, gloves, headgear, helmet, boots and so on in high temperature environment.
5, car engine heat shield, heavy oil engine exhaust pipe package, high-speed racing compound brake friction gasket.
6, conveying high temperature liquid, gas pumps, compressors and valves with sealing packing, gasket.
7, high temperature electrical insulation.
8, fire door, fire curtain, fire blanket, spark cushion and heat insulation cover fire joint products.
Aerospace, aerospace industry for heat insulation, thermal insulation materials, brake friction gaskets.
10, cryogenic equipment, container, pipe insulation, package.
11, office archives, vaults, safes and other important places of heat insulation, fire insulation layer, automatic fire curtain.